Touch Screens important for Autism Research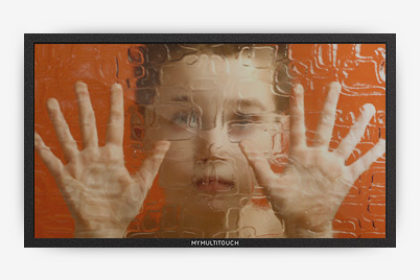 Lenovo recently published an infographic on its company blog that reviews the important role of touch screens for treating autism. Autism is a neurodevelopmental disorder that impairs interaction, both verbal and non-verbal. What many could never have expected is that touch screens are helping autistic people make breakthroughs in communicating with tablet computers and special applications.
Although autism patients cannot verbally communicate, people who have autism like British artist Stephen Witlshire, are a good example of what scientists have found – autistic people have more advanced image detection centers than normal people! Stephen is a special example, but he is famous for drawing entire cities from memory. In fact, more than two-third of autistic people have above average intelligence.
Still you can't learn if you barriers to communicate with your caregiver or teacher. Keyboards and mouse are not very intuitive tools for an autistic person. They require complex motor functions to use. Touch screens are helping to make huge advances in autism research, because it's easy to create special applications that associate images and phrases with soundboards. Just imagine that an autistic person walks into Subway for a sandwich. He can use the app to touch the picture of the topping he wants, and then the iPad can verbally communicate what he wants for him.
While the first ever Picture Communication Symbols (PCS) game like I described was developed in 1981, today touchscreen games help roughly 41% of teens with autism to learn and communicate. The interactivity that a touch screen brings to learning is so much more fun for autistic teens that scientists have seen attentiveness increase from 62% to 97% of the time strattera dosage.
"Autistic kids are so hands on. We did a project with our interactive multi touch software Snowflake Suite with autistic kids and its rewarding to see that those kids get so excited and happy about manipulating things and things magically appearing and happening underneath their fingertips."
said Harry Van Der Veen, CEO of Nuiteq.

Unfortunately, touch screen games do not fix all communication challenges. Children with autism who do not understand that pictures represent objects or who lack the basic motor functions to use a tablet will still need the help of a caregiver until he develops such pre-requisites, according to the May Institute, a nonprofit that gives services to people with autism.
With the increasing role of touch screen technology and other interactive solutions in our lives, more and more children with autism will live normal lives. Just watch how this iPad app called Autismate is already helping people with autism communicate in new ways.