Designers Comment On HYPEBOX 84″ Construction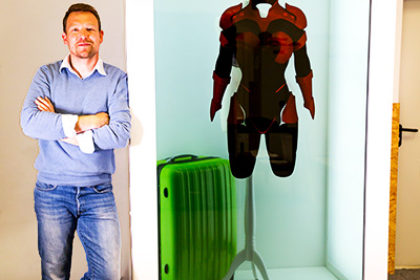 Considering that the 84″ UHD Transparent LCD showcase is 230 cm (7 pop over to this site.5 feet) high and weighs about 210 Kg (460 lbs), it's easy to understand that handling and building this product is not a simple task.
The HYPEBOX Touch 84″ is currently our biggest size in see-through touch showcases. MMT's mechanical designer, Dirk Lange, gives us some insight on the challenges of engineering a technological and mechanical masterpiece:
---
"Our goal was to design a product that could be shipped and built up easily".
---
"The overall dimensions of our final product are 232 x 130 x 81 cm (91″x51″x31"), however we have designed it so that it can be shipped in several pieces. The advantage of this is it only requires two people to handle it as well as manoeuvre it through normal doors, into elevators and up staircases.
Having only 8 parts to assemble, we also implemented a simple electrical circuit which requires the lowest possible knowledge during installation, but is also meets the most current safety standards.
Building up the transparent LCD showcase is comparable to building a wardrobe – even easier! The installation can be managed by using a screw driver and the provided hex keys.To connect the lighting system, we have integrated plug-in connectors – no specific knowledge is necessary. This powerful lighting can be adjusted by using the easy to handle dimming controls.
In the bottom of the unit, we designed additional space to safely hide a PC inside the showcase; the rear of the unit is easily accessed by two folding doors which can also be locked for security. There is plenty of room to display a product inside of the transparent display box!"