Interactive Digital Shopping Windows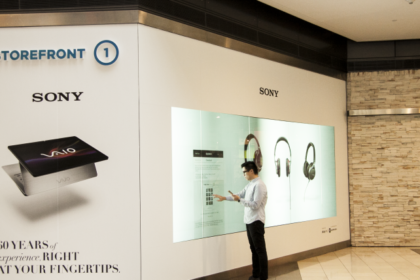 How MultiTouch Displays and Touch Walls can help even online businesses to sell more, is recently showcased by eBay. The interactive shopping windows they placed in malls in New York and San Francisco let visitors browse, buy and pay products instantly. At this time products of brands like Sony, TOMS and Rebecca Minkoff are available by touching the screens.

It also combines modern interactive hardware with mobile technology. Customers can pay in front of the display by using PayPal, CreditCard or SMS payments. So it is also a good idea for offline retailers to think about using some digital MultiTouch Monitors within their store concept.
One of the major benefits of using touch devices is the ability to collect user data like most used search terms and usage duration. In this way the seller can analyze the most interesting products and compare the result with offline sales.
For us, this a great use case and easy combinable with transparent touch screens, which offer all the same possibilities PLUS showcasing a real product at the same time.
Photo credit: eBay Inc.