Recap – MMT at EuroShop 2014
/
Thursday, 10 April 2014
/
Published in
Events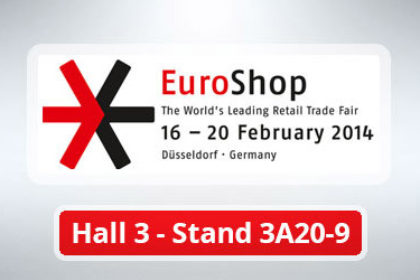 The World's Leading Retail Trade Fair "EuroShop" took place in Duesseldorf, Germany, from February 16th to 20th 2014 site web. Our MMT booth was located in Hall 3 No 3A20-9.
This time it was a little bit small, but a great place to showcase see-through screens anyway! A lot of businessmen from retail chains or store managers came across our booth an were impressed by the manifold opportunities of this technology.
Especially the 84 Inch 4K Transparent Screen is perfect for any shopwindow integration purposes. Many ideas have been shared between Team MMT and the visitors – new partnerships have been created. Particularly when it comes to content creation, a close cooperation is necessary to create something incredible! It is always difficult, to combine digital content with real objects inside the showcase. At this point, we're going to help our clients and test software / content upfront. That guarantees a smooth production run and final rollout.
During the EuroShop we introduced various sizes of our new product HYPEBOX. This series contains small size transparent showcases, ready to use with an integrated MediaPlayer. This products have been developed to support retailers in their daily business. The see-through display boxes offer to showcase products in combination with digital information on the front screen – for example if a retailer is running a special Easter promotion. Visitors become more interested in the advertised product as content is displayed on the screen. The animation, the transparent effect and the sleek beautiful design of this products raises attention of viewers enormous!
Thanks for all that interesting talks at our booth MMT!