Recap – MMT at ISE Amsterdam 2014
MMT @ ISE Amsterdam 2014 – a big success for us and our partners! Everything started during the Build-Up when some empty space in Hall 8 became an island full of innovation. Three hard days and around 400 talks later, we've decided to be part of it again in 2015.
This year, there have been a lot of new clients from Middle East and the US at the show. But for us, not only new clients are interesting, our main goal is to meet with current partners / clients and friends to discuss recent projects and collaborations.
In addition, we've got access to new markets in Russia and Southern America, which is a great opportunity for us and as well for our business partners.
With the launch of the transparent Touchscreen series MIRAGE and the transparent LCD Bottle Cooler, agencies and digital signage / interactive signage developer got some new ideas on how to create innovative content and which devices to use.
In the end, the most stunning exhibit at our booth was the world's first 84 inch Ultra-HD (4K) Transparent LCD Screen. This giant translucent screen is running at a resolution of 3840×2160 px and let's users see through the display. In order to showcase this incredible technology, we've combined a simple mannequin with some accessories like a hat and a suitcase and displayed virtual cloth on the screen. The digital content was rendered in the exact same size as the real mannequin. So when people watched the animation from the front of the display, the mannequin was dressed by the digital clothing.
For all clients, who have not been able to visit us at the ISE, we've summarized what we've exhibited during the show.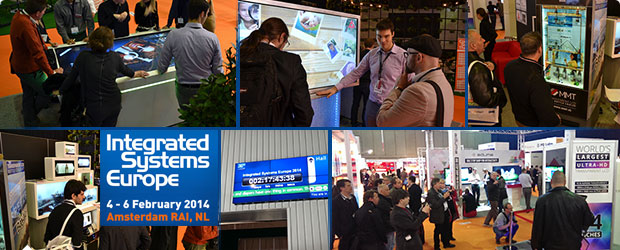 In addition, we've done a short video showing the daily situation at our booth best task manager.